Independent Jeweller vs Chain Jewellers – Which is Better?
Should you choose an independent jeweller, or a chain jeweller?
The brief answer is:
Chain jewellers charge a premium for their name, but they are consistent wherever you are in the world.

Independent jewellers

put quality above all else, meaning you'll get more, pay less.
Before we get into the details, first, what is the difference?
What's the difference between an independent jeweller and a chain?
A chain jeweller (such as Tiffany & Co.) will open up stores across the world, either as standalone shops or as a part of a supermarket. You know what you're getting, as quality remains relatively consistent across the board.
Some people prefer chain jewellers because it's easy, even if it's more expensive.
An independent jeweller is owned by a local businessperson. All stock is carefully curated, and much of their jewellery may also be created in-house.
At an independent jeweller, you're likely to have a more intimate, consultative experience, and your budget will go much further. However, you're not guaranteed the consistently high quality, so make sure to check out any reviews before you visit an independent jeweller!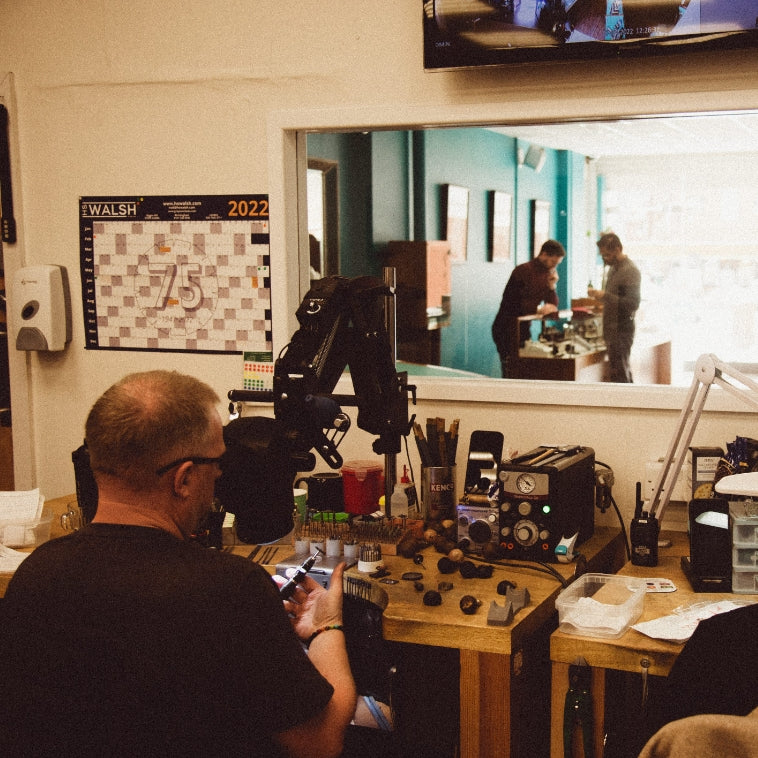 Comparing independent jewellers and chain jewellers
Now we've outlined the differences, it's time to start our comparison!
Respect your budget at all times
Shopping for jewellery can be a little intimidating, especially if you're looking to make an expensive purchase, or it's your first time.
That's why it's important that you can trust your jeweller to make honest recommendations that fit within your budget.
Independent jewellers love what they do and are extremely passionate about their skill and their business. At the end of the day, you finding the perfect item of jewellery is far more important than upselling you to something pricier.
Many chain salespeople are rewarded based on price of sale, so will actively try to drive your budget up. Once you've set your budget, don't be pressured into increasing it.
Brand name doesn't equal quality
It's easy to jump to the conclusion that because you see a jewellery brand everywhere that they must be high quality, right?
Unfortunately, it doesn't always work like this; a premium name doesn't necessarily mean premium quality. In fact, you'll often end up paying significantly more for a diamond of the same grading purely because it's got a chain's name attached to it.
This means that, on average, you'll pay a significantly lower price for diamonds of the same (or superior) quality when you visit an independent jeweller.
Support the local economy
Independent jewellers will usually be owned by people in your local community, whereas chain jewellers are often owned by international conglomerates.
This means that by shopping independent, you'll leave with a unique, perhaps bespoke, piece of jewellery while keeping money in the local economy – what's not to love?
Tailored advice
At a chain jeweller, you may be viewed as just a commission.
Our experience of this is that they'll try to process you as quickly as possible in order to get the next customer behind you in.
It's a little different at an independent jeweller. Find the right store, and they'll want to learn all about you as a person, and they'll do everything in their power to ensure that you are fully informed, are presented with all possibilities and leave knowing that you've made the right choice.
Finding the perfect jewellery is our #1 priority at Mitchel & Co – talk to our specialists if you've got any questions at all.
Real, genuine expertise
If you're after the real experts, then you should look no further than an independent jeweller.
Independent stores were founded on passion and love for the craft, which means that there's decades, if not centuries of expertise waiting to be passed on.
At a big chain, you'll probably be dealing with a sales associate who only has a rudimentary understanding of jewellery, and who has pressure on them to make sales. This takes the focus away from you, and means that they may not be able to properly answer your questions.
Essentially, at an independent jeweller, you'll talk to owners, managers and jewellery/diamond experts. At a chain, you're very unlikely to talk to these people.

Bulk buying over careful curation
In order to keep profits as high as possible, many chain jewellery stores will buy their products in bulk, sourcing jewellery that is mass produced before marking up the price a great deal!
This doesn't mean that the jewellery is necessarily of bad quality, but it does mean that you end up paying more for lower quality goods.
Independent jewellers, on the other hand, will carefully curate their diamonds and other gemstones, hand picking their materials from reputable sources and guaranteeing that every single piece you buy has been properly inspected by an expert.
Intimate experience
There's a very unique feel to an independent jeweller, and it's an experience you simply don't get at a chain jeweller.
At an independent jeweller:
- Your time is appreciated, and staff will go above and beyond to make you comfortable.
- You'll be able to talk with the actual experts, not associates.
- You'll be treated as a person, not as a walking wallet.
- You'll gain intimate access to their collection, and will usually be able to try things on.
At a chain jeweller, you're unlikely to have the same bespoke experience.
Follow-up support
Need help after purchase? By choosing an independent jeweller, you'll know exactly who you talked to, and who you need to talk to should you need any support down the line.
Of course, many chain jewellers will also offer support, but you're unlikely to meet with someone who remembers you, and they'll have a standardised procedure that is inflexible and may not suit your needs.
At Mitchel & Co, we build a detailed understanding of you as a person, meaning that we tailor our support to your unique needs.
Who's cheaper, independent or chain jewellers?
At a chain jeweller, you're paying a premium for the name.
At an independent jeweller, you're paying for premium quality.
You'll get far more for your money at an independent jeweller, in fact, chain stores can range anywhere from 10-30% more expensive for diamonds of the exact same quality.
Jewellery advice, bespoke rings and more from Mitchel & Co
We get it, as an independent jeweller, we're probably a little biased. However, we've presented only facts in this article – independent jewellers are objectively cheaper, and have completely different processes when compared to chain jewellers.
At Mitchel & Co, we're expert ring manufacturers, diamond experts and jewellery fanatics. Yes, we're a business, but finding your perfect item of jewellery is our number one concern.
Whether you need advice on choosing an engagement ring, you want a bespoke ring created from scratch in our Jewellery Quarter workshop, or you just want to come and have a look at our spectacular collection, get in touch with us today.
Our specialists are on hand to answer any questions you might have (or to just have a chat about jewellery!).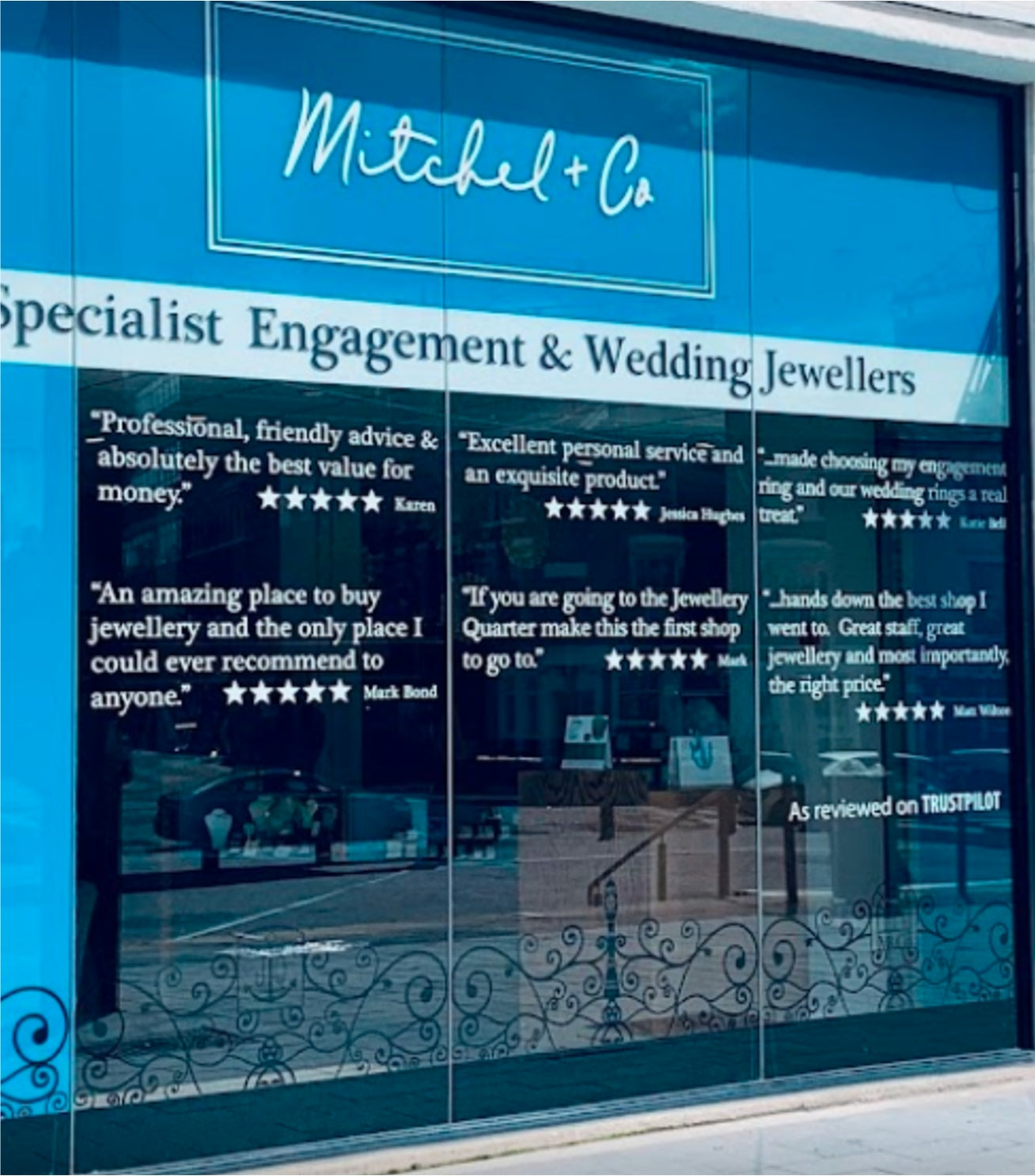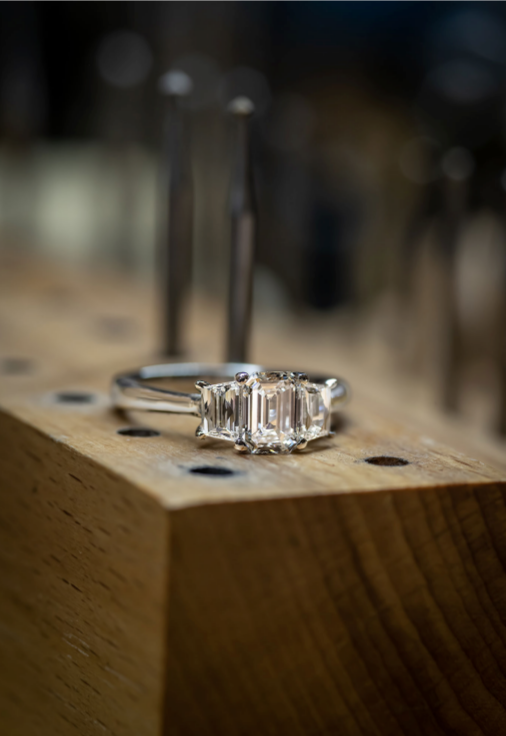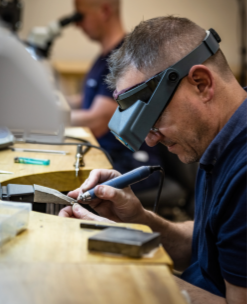 Tailored and

made for you
Not seeing exactly what you want? We can design and craft a bespoke ring to your exact specifications, creating something absolutely unique to you.
Craft your perfect ring