Everything You Need to Know About Gold Wedding Rings
Your wedding ring is one of the many wonderful things about your wedding day.
As a symbol of your love and commitment, it's an item that you are going to wear for the rest of your life, so it's important that you get it right.
There are so many styles to choose from that it might seem impossible to decide, but somewhere out there is the perfect ring for you!
For a timeless and classic wedding set, you can't go wrong with a gold band.
Gold bands have been worn for hundreds of years to represent eternal love, and this beautiful tradition has carried on to this day, available in both modern and vintage designs.
Our jewellery experts have put together this concise guide for gold wedding rings to help you decide on the perfect option for you. 
Are gold wedding rings a good investment?

Not only does the quality of gold make your wedding band long-lasting, but gold retains its value, meaning that your jewellery will be worth the same in years to come.

Its classic design and style also mean that it can be passed on as a future heirloom, or even be the wedding band of another member of your family.
How to clean and care for your gold wedding ring

Once you have decided that a gold wedding band is the one for you, you must know how to care for and clean it to ensure it will last a lifetime.

Here are our top 3 tips for how to take care of your gold jewellery:

Cleaning your gold wedding band

Your wedding band is an item that will be worn every day, which means that it will constantly be exposed to dirt, skin oils, makeup and more. Over time this can cause your wedding band to lose its shine.

To refresh the lustre of your gold wedding ring, you should ensure that you clean it fairly regularly.

In order to safely clean your gold wedding ring, you should use the following methods:
When it comes to cleaning your gold wedding band, it's better to be gentle. For this reason, we advise that you only use a small amount of water to carefully wipe away any dirt or oil.
If there's a reason your wedding band needs a little extra cleaning, try using a delicate soap, but avoid harsh detergents.
Remember not to use too much pressure or scrub it using abrasive materials. Handing the settings or gold too harshly can cause damage.
When to remove your jewellery
While gold is durable, there are times when it should be removed to protect it.

If you are planning to do any manual tasks, such as housework, you should remove your wedding band to prevent scuffs, scratches or damage from harsh cleaning products.
Wearing your wedding ring to bed at night can also lead to damage. The gold and the settings can get caught or worn down on your sheets and pillows as you move in your sleep. Ideally, you should remove your jewellery before you go to bed, storing it in a safe place.
It's also important to remove your wedding ring if you are going swimming, as you don't want to submerge it for long periods or expose it to harsh chlorine.


Storing your gold wedding ring
You should always store your gold wedding ring separately, either in a ring box or a compartment in your jewellery box.

Storing your wedding band with other jewellery can lead to your wedding band becoming worn or scratched. The best place to store it is somewhere dry and out of direct sunlight, as cold or damp can also cause damage.
Bespoke gold engagement and wedding bands from Mitchel & Co
Mitchel & Co are a family-run jeweller based in the heart of the Birmingham Jewellery Quarter.
From our onsite workshop, our team of expert craftsmen work tirelessly to create the wedding ring of your dreams - we're the only jeweller in the Jewellery Quarter who make their own rings from scratch.
To browse our range of stunning wedding rings, visit our website. If you have any questions about our bespoke services, don't hesitate to get in touch with our team today.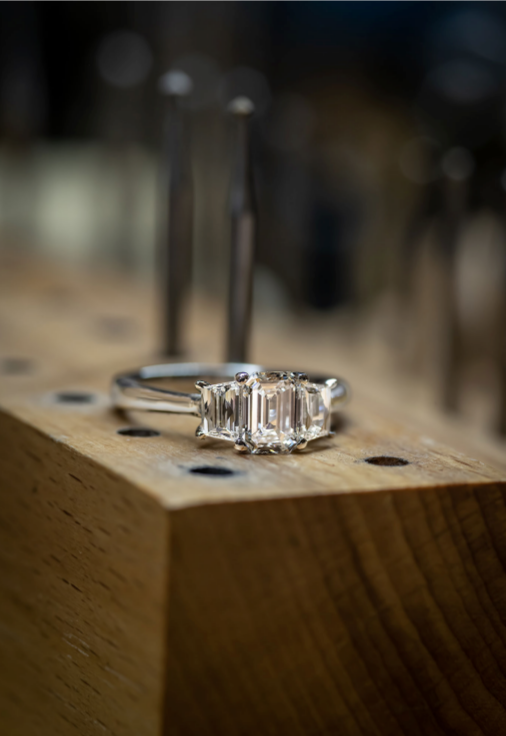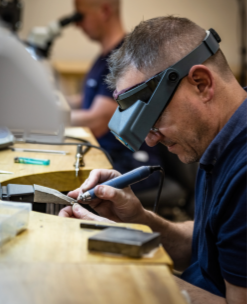 Tailored and

made for you
Not seeing exactly what you want? We can design and craft a bespoke ring to your exact specifications, creating something absolutely unique to you.
Craft your perfect ring